January 15th, 2011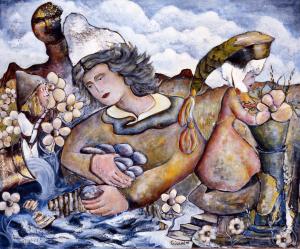 Jean Marie GirardPosted Today at 12:02 AMThis period also was the time that I learned about creativity. Creativity has a out side- of me- intelligence, I began to understand it better, I began to see that it was link to my sense of observation, observation has receptif not analyse. How do you undersand creativity? .
January 14th, 2011
You know Justin , when we ask a artist the idea behind a painting , this is not a small question. If you would a client I would probably say that the idea is to put a picture
on the invisible, if you believe that there is and invisible.

The painting that you are pointing, The Invisible and Matter are from the same period.
The last painting of this period was Checkmate. When I finish Checkmate I looked
At the last 10 painting a I realize that my work had nothing to do with reality, I realize
that I was a dreamer. Why??? My live was so miserable that in my painting I was creating
a small sanctuary where I could disappear from my idle life, from time to time. This does not
mean that they are not good painting, they represent a state of our mind of the human mind.
They are evasion, in some kind of magical world, the idea that some how the invisible is there

to help us, I looked at those painting almost like they were religious painting, hoping to be save…lol….
I did not want to see reality I did not know what to do with it, I could not change it so I did not want to be bother with it, I was stuck in it.
Can you see better what they are now? They are different but they carry the same mood.
They are the residue of a mixture of religion, new age and some spiritual conditioning.